Hey Ya'll, Wednesday, January 31, 2007
Well, Katie's left for school...again. It's hard to believe she's entering the back end of her second year.
It seems that I've started many, many projects of late so now I have to buckle down and finish...something at least.
First on the list is the Doctor's Bag from "Knit 2 Together" for Katie. If you haven't seen this book you really should. There are several things on my to-do list (and several more on my daughter's!) Here's one side and part of the back; I also have the bottom done. The texture of the herringbone pattern is beautiful done in the Manos. We're using color #66, Cherry: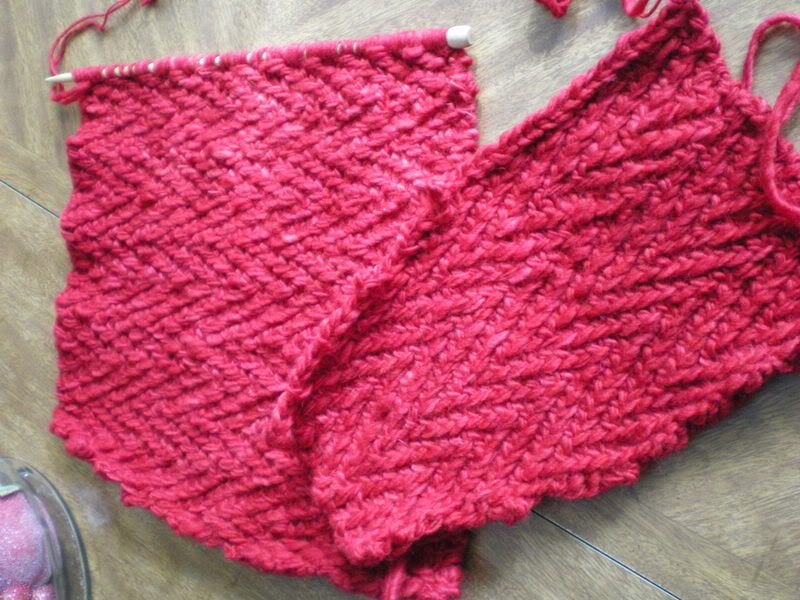 Now I know I've posted these little felted bags before but this time they're finished with their pretty gold buttons and living with their recipients. They're Lamb's Pride worsted weight:
And, at last, my first pair of mittens. I LOVE THEM in thier Big Mexiko Superwash, color 7956:
As far as the rest of the lot goes, there's a lace scarf being worked in sock-weight, hand painted wool I picked up on eBay, a cable sampler Aran afghan (as seen on Knitty Gritty) and the beginning of a sweater waiting to be frogged.
My friends (Nancy and Lore) and I drove to Barnegat, NJ on Saturday to visit our other friend (Judy) who has retired back to the homeland. It was a long but wonderful day! We drove up in style since the BF loaned me his Cadillac (my radio is broken and I couldn't face dragging my pals 500 miles without the background noise.) The development Judy and her Mom, Mary, moved to is just great. The house is beautiful and only 20 minutes to the beach!! We even got to visit the Barnegat Lighthouse! And then, we got to do our Christmas!! Christmas in January...nothing like making the season last!!
Cheers!