Veteran's Day, Friday, November 10, 2006
First - Thank you to all the women and men who have served and continue to serve our country so valiantly. This, of course, includes Dad who at the ripe-old age of seventeen enlisted in the US Marine Corps during the height of WWII!
Okay, dears, are you happy?? I'm posting!! Yeah, yeah it's been a while - stop nagging! :-)
I'm am despondent; I am depressed; I am inconsolable! My poor Giants are dropping like flies...Michael is out 2-4 weeks, Arrington is gone, and Osi will probably not play Sunday night! There goes the defense! AND, Plaxico's back has been acting up and Amani - out for the season! Who the hell is Eli going to throw to? Or rather, to whom is Eli going to throw? Better! T iki, for sure and Shockey! But, Jeremy's only had one good game so far (last week). And we've got The Bears in a flex game on Sunday night for all the world to see! Oh well, no worries - Big Blue will come through. Bye-bye Rex Grossman! :-)
On a lighter note, went to Stitches East on Saturday afternoon. I got lots of pretty things from Brooks Farm (Texas), A Good Yarn (Baltimore), Tess (Maine - with a free mini-jar of jam that was fantastic!) and more. Here's a picture of some of my goodies. Please note the absence of the beautiful ribbon I bought from Tess. When they say DO NOT ATTEMPT TO WIND THIS AROUND A CHAIR...YOU MUST USE ANOTHER PERSON TO HOLD THE YARN - you should really believe them!
And, on another happy note, Javajem and I both finished our Clapotis! I really like mine even though it sheds a bit. It's made from Paton's SWS (Soy Wool Stripes). And I am now faced with that age-old question - To block or not to block? The jury is still out on this one.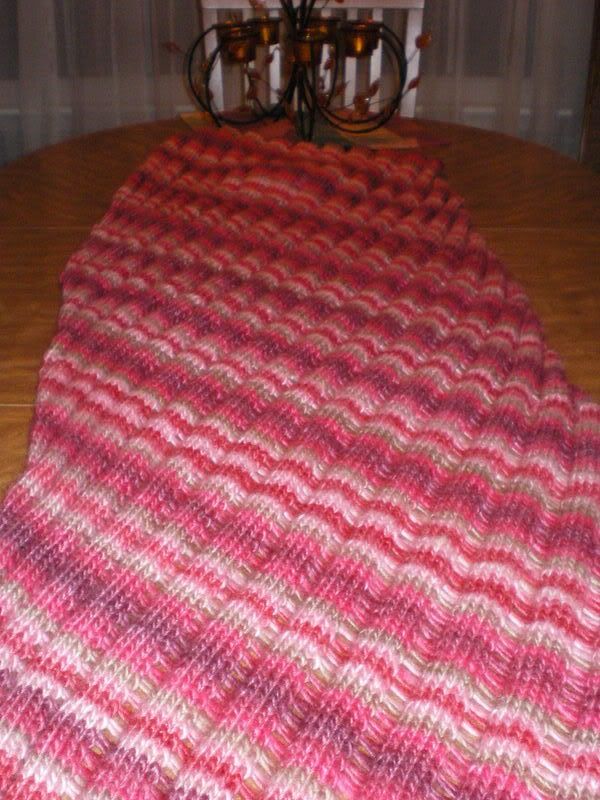 So that's that for today. Holiday from work so if I can manage to ignore the housework I should be catching up on (no worries there), I'll be knitting away today...although I should probably go food shopping!