Allow me to backtrack a bit... December 25, 2006 - January 5, 2007...Happy New Year!
Once again it's been a while since I've written. I have no excuses so I won't bother trying to make any up.
Katie and I had a very nice Christmas. We were joined by my little sister, Susan, who lives with her husband Michel outside of Dallas. He couldn't come because he's already used up all of his vacation visiting his family in France. :-( My sister Ellen and her family spent the day entertaining 14 adults and many children in thier Durham, NC home. Better them than me.
K, S, and I spent the day taking a lovely walk, opening gifts, cooking, and drinking wine! We made a really great Italian dish that I hadn't had since S was in high school. It's called Arancini...balls of risotto rice and parmesan cheese stuffed with a mixture of ground beef, peas and tomato sauce. The balls are then rolled in bread crumbs and deep fried. Serve with more of the tomato sauce and you are in heaven! It really took me back. I don't have any Arancini pictures but I did take one of our desserts!
What you see are my lemon-cranberry cookies, Katie and my snowfall coconut cupcakes and Susan and Katie's Croquembouche! GORGEOUS!!
Also on Christmas Day, Katie decided it was time for her to learn how to knit!! Yippee!! She did a very nice swatch of garter/stockinette stitch. The chick knits as evenly as a machine. And unlike many newbies, it's not too tight! her next efforts were a hot pink ribbed skiband and a cover for her new (video) iPod! See below: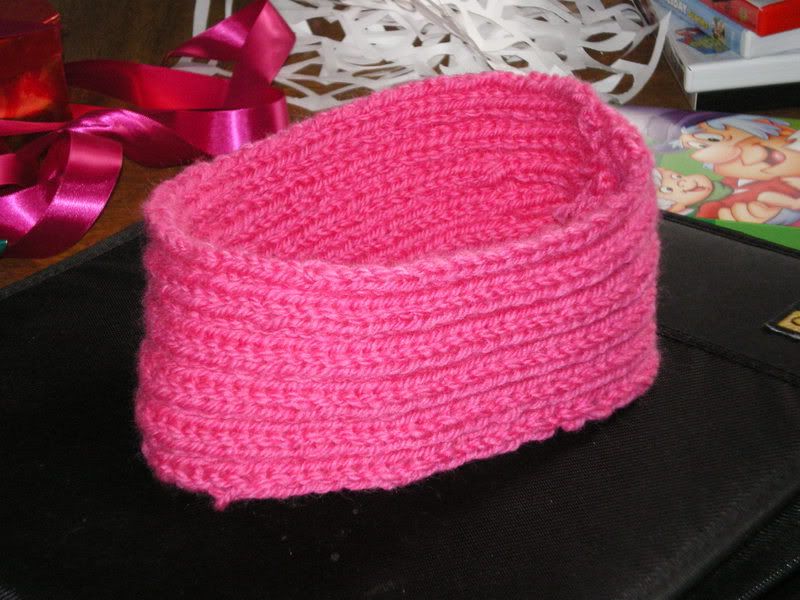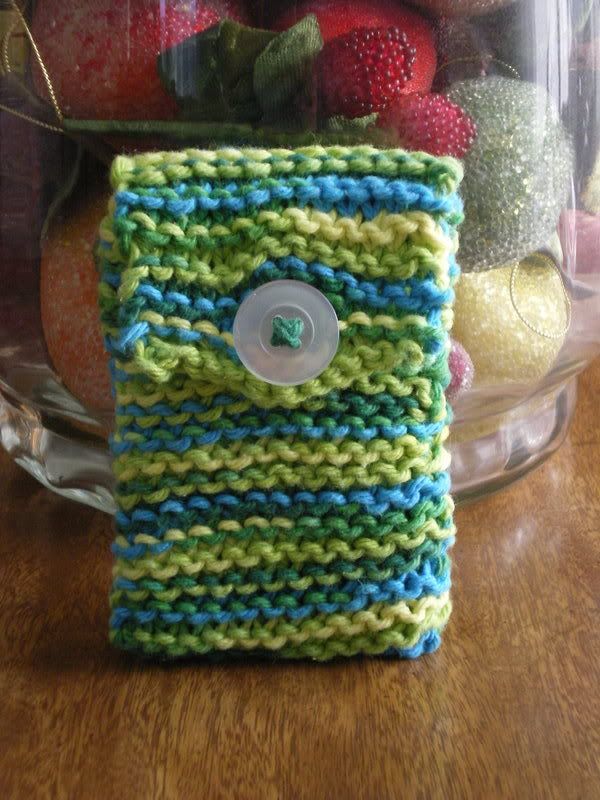 Her current project is a wristband made in the herringbone stitch from
Alterknits
by Leigh Radford!! I am SOOOO proud. Can you tell? :-)
I finished up the shrug K picked out last month. The ribbon yarn is the very pretty
Shimmer
by Crystal Palace in "Straw Into Gold" (black with a gold fleck).
On the 27th I planned to put the dog in the car and drive up to NJ to visit Dad and Auntie Anna for a couple of days. What do they say about the best laid plans? My poor old dog couldn't get into the car - even when I made him a little ramp. Instead of the drive I jumped on the train and just stayed for the day. We had dinner from a small Italian restaurant in town (take out, of course) and I fixed my Dad's Internet. It was broken! LOL! I still haven't received an email from him. I sure do hope he didn't break the Internet again!!!
That's about it...back at work...back to Sit and Knit...back to life after a super 1 1/2 weeks off!